When I first heard the name of this organization, I wasn't very comfortable with it. If you know me at all, I'm always looking for positive ways to say something and the idea of claiming to be afflicted just didn't make sense for me. Then I looked closer at the organizations by-line and realized that it was the perfect name. Their by-line is: There's Only One You!
I met the organizations' co-founders at a recent Body, Mind, Spirit Expo and was so excited about their message of hope for everyone, with a particular focus on kids and veterans. They inspired me to want to share this video so you too can either have them invited to your children's school, or to speak to veteran's in your area.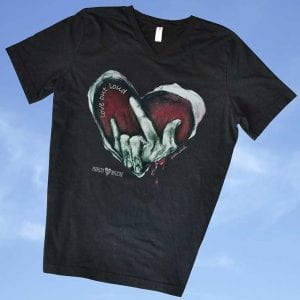 They created this really nice T-Shirt Design that I just had to share with you. I'm not a big fan of wearing T-Shirts, but I had to have one of these to help their cause and yes, as soon as it's warm enough, I'll be wearing it every chance I get.
You can learn more about their organization, order a few of their beautiful T-Shirts, or contact them to speak at your children's school or for a local veteran's event by going here!
The sale of the T-Shirt goes for funding their travel to schools and organizations that don't have the funds to get them to their location.