Giving is not just about the person receiving the gift, it as much about the joy the giver feels. Sometime back I went to an event and the speaker told us that we were not allowed to say anything but "Thank You", when someone gave us a compliment. You see most of us feel obligated to say something nice back to the person, and yet by doing so you are minimizing their gift to you. You are taking away the joy they will receive by giving to you and seeing you receive that gift. It really struck me and opened me up to receive without feeling as though I had to give back. I see and hear the joy the giver gets when they see me receive openly. It doesn't mean that I don't give them a gift at some time, but the difference is that when I give that gift, it is totally given from the heart versus being given from the need to give in return.
Feel the joy that these people received by giving.
Before watching this, get the tissues out!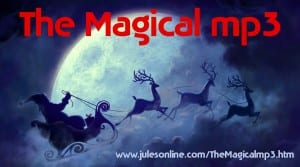 You may not be able to help "Secret Santa" hand out $100 bills to people in need, like these man did.
But your purchase of the Magical MP3 for just $9.95 will give the Firefighters of Sparky's Toy Drive the chance to play Secret Santa for kids in need, so they too can receive the gift of JOY for giving just like these police officers did.
And, YOU TOO get the JOY of giving along with 24 beautiful Christmas Songs done by Country Singer Jules!  Check out his beautiful music here and help these firefighters be Secret Santa Today!
But that's not all… I have a gift for you when you order Magical MP3
As my special gift to you for ordering The Magical MP3 I will give you a copy of my Opening to Receive Symbol, along with a Special Report about opening to receive. Value $25!  Using the Open to Receive symbol is the first step for increasing  your Prosperity and Abundance for 2016. 
Here's what Cynthia had to way about Opening to Receive…
The first day I used Krystalya's "Allowing Oneself to Receive" symbol
I won a prize worth over $600.
Once you do, please return

to the Contact Form here and enter your Paypal Transaction ID – you'll find it on the upper right corner of the receipt you'll get from Paypal. You will receive your Symbol along with a Special Report about opening to receive within 48 hours.
(Already ordered? Thank YOU and Please send me your receipt and I'll happily send you this gift too!)